DOWNLOAD IT HERE, GUYS: http://nabovarselsuger.no/NABOVARSELRECORDSTOREDAY.zip [Remember to click "Save as"]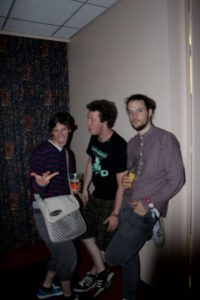 Holy macaroni, guys. It's Record Store Day™. Since it's a special occasion, we thought we should celebrate it by bringing you something that will last forever: A .zip containing a lot of mp3-s that can be hard to get hold of. This collection brings together a lot of rarities, b-sides, demos and remixes that will have absolutely no part in ever making sense of what we do. But we like all the tracks in here. And we hope you will appreciate this. Hey, some of the songs on here deserve more than taking part in a "statement" against the vinylmania that stopped being exclusive to the DIY- and indie-community that needed the attention and now works as another excuse to make "Rumours"-deluxe edition vinyl.
From Wikipedia, "Record Store Day 2008":
"Unofficial Ambassadors: James Hetfield, Lars Ulrich, Kirk Hammett and Robert Trujillo of Metallica. Metallica officially kicked off Record Store Day 2008 at Rasputin Music in Mountain View on April 19, 2008. They signed autographs for 500 fans, 100 of which were MetClubmembers. Non Metclub members had to wear red numbered wristbands while the Metclub members wore blue ones. Metallica in conjunction with Rasputin Music gave away free t-shirts sized small to extra-large to all of the fans that got their autographs."
Without further ado:
NABOVARSEL RECORD STORE DAY COLLECTION
featuring: The demo that made us sign Verdensrommet, some cool Machine Birds remixes, weird stuff from Ill Tariq, Teknopoly's Scoundrel Days-sounding pop gem, a lot of amazing Put Your Hands Up For Neo-Tokyo, the personal therapy-pop from Advanced Language, a 16-year-old called Astral Trip, and a Broken Social Scene-referencing tune from the ever so mysterious Burning God Little. Romskip & Planeter with a demo he made in 2002. ACTION THE MAN. Oh and a loop from the anonymous Terreng. And not forgetting Njaals breakout-single "Crush". We also found a drum & bass track from 2002 featuring Chris Holm. And one of the original gangsters from Nabovarsel: Movee with his "Trouble Double".
Let's get to it, guys:
DOWNLOAD IT HERE, GUYS: http://nabovarselsuger.no/NABOVARSELRECORDSTOREDAY.zip [Remember to click "Save as"]
Geez. Hope you enjoy. And feel free to do like André 3000 says: Spread.
P.S. Big thanks to our friends in http://powerblytt.com/ for giving us permission to use "Crush".