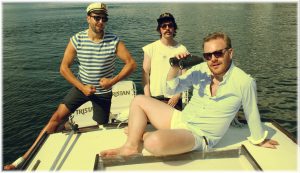 Bergen, Norway post-punk trio Ungdomskulen will be announcing some new album details soon, but before that happens, today they're sharing the video for the first single "Askefast," a propulsive, proggy cut. The video finds the group workin' some stuff out in the shadows and features some always-much-needed shirtless cave drumming. Watch it below.
Ungdomskulen – "Askefast" Video from stereogum on Vimeo.
IN CASE YOU DID NOT KNOW, UNGDOMSKULEN IS THE BEST LIVE BAND IN THE WORLD.