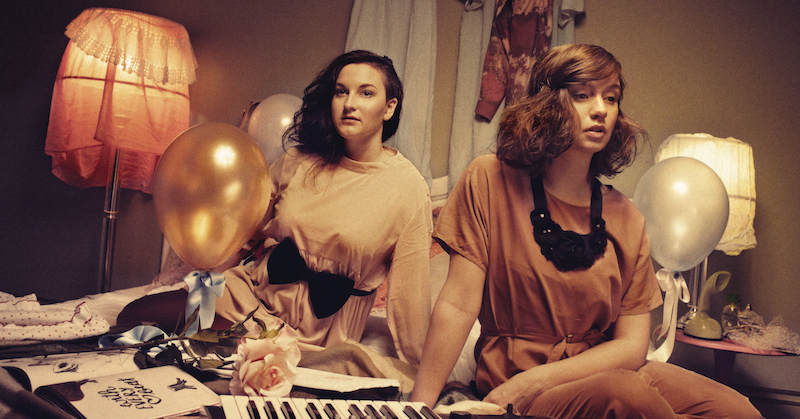 MACHINE BIRDS – TIME
Release/catalogue number: NABO002
Release date: Sep 26, 2011
ISRC: NO-2W3-11-02010
Det er en ære for Nabovarsel å kunne presentere Machine Birds debutsingel "Time".
Låten "One Last Try" føk opp som en rakett i fjor på P3, og førte samtidig Maria Skranes og Marte Eberson til andreplass i Årets Urørt 2011-finalen. Det er vel fortjent: "One Last Try" er en nydelig, ambient-pop-sak som kombinerer Marte Ebersons og Maria Skranes' talenter som låtskrivere og musikere. Tankene leder hen til artister som Björk og Au Revoir Simone, men Machine Birds strekker seg lengre enn sine samtidige søsken: Her fins det spor av This Mortal Coil, Cocteau Twins og "Hounds of Love"-æraen til Kate Bush.
De to jentene som utgjør Machine Birds har sitt utspring i Griegakademiets jazzlinje og – Griegakademiet får ha oss tilgitt – sprenger grensene for hva en kunne ha forventet av popsensibilitet og teft fra den kanten. Når dette så kombineres med virtuos stemmeprakt og full kontroll over tangentene, blir Machine Birds mer enn fin musikk, men også en flott live-opplevelse.
"Time" er et steg videre: Inn kommer noen syntetiske trommer som blir som et skudd adrenalin i Machine Birds sitt ellers esoteriske lydbilde. Denne rytmiske energien skaper en fin spenning mellom melodiene og akkordene, samtidig som låtens tematiske univers får en iherdighet. Machine Birds er ikke bare lovende, men overraskende modent.