JOHN DEE OSLO, 31. AUGUST:
PUT YOUR HANDS UP FOR NEO-TOKYO (LIVE)
BURNING GOD LITTLE (LIVE)
NABOVARSEL DJ-s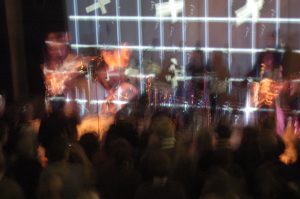 Det bergenske plateselskapet og klubbkonseptet Nabovarsel tar turen til Oslo og John DEE. Det blir en helaften med to konserter og to artister som beveger seg mellom elektronisk, rock- og popsjangeren på forskjellig vis.
00:00 Put Your Hands Up For Neo-Tokyo
" Er dette en av de fineste norske låtene jeg har hørt i år? Ja, det er det. Lytt og lær alle popstjernewannabes. Lytt og lær alle som bare klarer å levere et par melodier og idéer av gangen. " – Smuglesning
" En slags sjøsyk elektroreise gjennom Beatles' Sgt. Pepper og The Beach Boys' Pet Sounds dette, med endepunkt i balja til Built To Spill og Graham Nash som styrmann. Okke som, finfin og velsspilt pop med referanser til alle gode ting i verden." – Natt og Dag
Hjemmeside: http://www.facebook.com/putyourhandsupforneotokyo
23:00 Burning God Little
Burning God Little er et lite elektronisk popfenomen fra Tromsø.
Martin Hartgen, som han egentlig heter, lager dansbar, småskitten og vakker musikk. I fjor spilte han på by:Larm, ble Ukas Urørt i mars og fortsatte den fine formkurven med blant annet spilling på Slottsfjell, Hove, Øya: Open og UKA11 i Trondheim. Dette er en artist verdt å følge med på!
Hjemmeside: http://www.facebook.com/BurningGodLittle